Please See News Post Regarding CAA Air Navigation Order
Herefordshire Model Aero Club
Herefordshire Model Aero Club was formed in 1967 
to provide facilities and support to enthusiasts of aero modelling – both building and flying. Over the years the Club has come to concentrate on radio-controlled fixed wing model aircraft powered by internal combustion engines or, increasingly, by electric motors.
The Club's flying site is located in the village of Much Marcle, HR8 2LX, and is a field of some 30 acres. The site is not normally suitable for free flight, rotary wing or jet turbines due to limitations of boundaries and noise control.
The Club is affiliated to the British Model Flying Association (BMFA) which is the national body for the sport. All club members must be members of the BMFA. We strictly observe noise level limits as per the BMFA/DoE codes. There are limits on the hours of operation of I/C powered models.
We welcome new members, especially younger people, but we are currently unable to accept applicants who are members of any other model flying club.
We can offer training to the BMFA "A" standard which allows members to fly unaccompanied and can carry out testing for both "A" and "B" fixed wing certificates.
We hold social and themed flying events from time to time.
Club membership is subject to approval by the committee and includes a probationary period. If you are interested in joining and wish to find out more please contact the Secretary, Ben Bates, on 07736960643.
Much Marcle Large Model Air Show
As the local link between the Herefordshire Club and the LMA in putting on the annual Much Marcle Large Model Air Show Club Treasurer Bernard Morris gets the very pleasant job of presenting cheques for the donations which the LMA generously gives each year to various local good causes. It was the normal practice when this show was run by the local Club to share proceeds with good causes and the LMA has willingly continued the same way. Over the years some £34,000 has been given to charities like the Air Ambulance and hospices which serve the area, as well as to good causes in the immediate neighbourhood. Local support is important for the continued success of Much Marcle show.
This photo shows presentations of cheques for £350 each to Mary Seldon of the Midlands Air Ambulance and to Matt Ashcroft of St. Michael's Hospice. These are the donations from the September 2019 Show.
Photo by David Mocatta.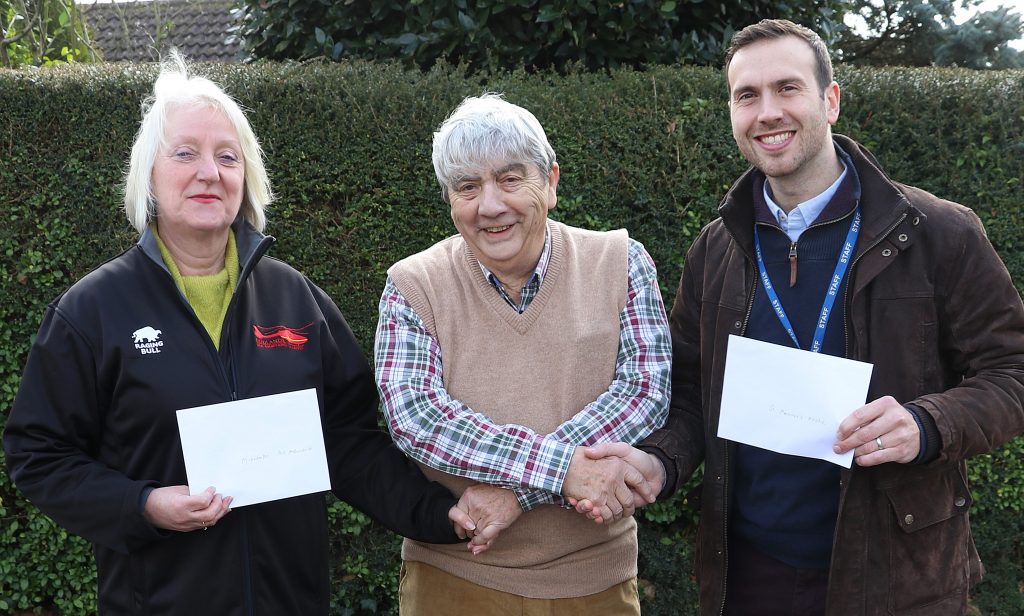 Next Show 5th and 6th Sept. 2020.